On doubt
I want to talk about doubt.
Last summer, we had to put one of our cats down. Otis was about 18 years old, and had been suffering from a thyroid disorder for a number of years, a disorder that left him just a few pounds in weight, dull-eyed and prone to peeing everywhere.
We loved Otis.
Shortly before my birthday, we took Otis to the shelter where we'd adopted him 15 years before so they could help us put him to rest peacefully. We were taken into a room to spend his last few minutes with him before we had to let him go into the back for the injections with a volunteer who told us she would hold him the entire time. We cried like babies.
Doubt set in. It was no question that Otis had been ill for a long time, and was likely to continue to suffer if we kept him alive. He couldn't control his bladder, and we couldn't leave him alone for more than a few hours at a time without him peeing on everything in the house.
But, I thought, what if the people at the shelter took him into the exam room and decided we were too hasty? What if they didn't give him the injections, and instead had decided to remove him from our custody and find him a better owner?
I started looking on the shelter website daily, searching through the "older cats" section for his scruffy face. I imagined the bio they would write: Handsome senior cat removed from a home that didn't see good years left. Lots of love to give. I imagined finding him and rushing to the shelter to claim him back and them declaring me an unfit pet owner. I might have gone so far as to imagine a pet version of CPS coming and removing our other two cats and our dog.
It's crazy. I'm aware. But even a year later, I still have this inkling of a fear that Otis is still out there, and I'm a horrible person.
Doubt is a hard thing to shake. I do believe it's a beneficial feeling, and certainly, day to day, it probably keeps us from any number of disasters and missteps. Doubt, though, can trip you up and send you sprawling in the dirt if you allow it to accompany you for too long.
I like to think I don't spend too much time doubting myself (outside obsessive cat kidnapping thoughts, naturally). There are moments when a second look or hesitation is necessary, but I tend to be maybe stupidly confident in a few areas, including my writing.
This is not a luck of the draw; I am not a naturally confident person. In fact, it could be argued that I have rather low self-esteem and tend to be self-crippling, denying myself even easy success because I'm quite sure I don't deserve it.
How, then, do I manage to get out of bed at all, let alone sit and type and send out work and face an inbox full of rejection?
Effort. Sheer effort. It's always struck me as funny that people think I'm naturally bubbly, cheerful, and outgoing. Effort, my friends. I wake up most mornings to some fashion of career rejection, either by low sales, silent agents, or canned rejections in my email. There are certainly days I'd rather curl up in a ball and give it all the hell up.
Effort. It's always amazed me that people think anyone successful, or confident, lacks any doubt. It's like it's a superpower: DOUBTLESS GIRL, ABLE TO SMASH THROUGH FEAR AND ANXIETY IN A SINGLE SLASHING MOTION OF HER HAND AND BACK AGAIN (there's a reason I don't write catch phrases). There is no such thing as a person who does not doubt themselves, one time or another. Doubt is like a mosquito: it is there, and the more you scratch it, the more it itches.
I doubt myself a lot. I certainly doubted my cat's death, my culpability in the whole thing. I doubt my worth often – what truly confident person worries their cat is resold?
Doubt is not a personality trait that is ingrained in us from birth. Doubt is not a birth mark, doubt is not a state of being. Doubt is transitory, and it is defeatable.
I don't have any advice, though, on HOW to defeat it. My friend and I tend to throw around a phrase: Fake it till you make it. It means smile even when you want to scowl, it means getting up when you want to lay on the ground, it means believing you're doing the right thing even when you think you aren't. You fake it, and, when you fake it long enough, you, most times, start to believe it.
This doesn't always work, of course. I have dark times, I have moments of desperately wanting to give up – on writing, on my career aspirations, on even getting up and washing my hair. Doubt crawls in when I let it. Doubt always looks for the opening.
I've managed. I will manage again. If you want to, you can manage just as well, too.
Tags: blogging, bloggity blogging, confidence, i have issues, i say things people don't like, in other news, inadequacy, life, metaphors, personal, rambling, rejection, writing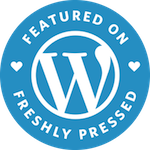 Categories