On Inspiration
It's one of the questions that writers hear most, and one of those that makes most writers shrug their shoulders, shake their heads, or just plain want to tear their hair out.
Where do you get inspiration to write?
It's as ridiculous a question as asking how one gets inspired to drive to work, but I'm willing to give a little on it. For so long, we (both writers and the general public– I'll let us all shoulder the blame for this) have mystified the whole process of writing. It's something that requires a special set of skills, a special mindset, a way of thinking and relating, and, so, of course, one who does not write can't really help but wonder how one who does gets to that writing.
What inspires you? they ask.
Let me tell you.
1) The shower. You think I'm kidding but I'm not. I remember hearing something once (and, admittedly, it might have been on 30 Rock) that when you're distracted by something as base and simple as showering, your brain has access to more of your thoughts– or, rather, gets more space to do it's thinking. You're busy trying to keep shampoo out of your eyes, and so your brain can tool along its happy path, wondering what would happen if someone were to jump from the top of a three story building into a pool, and then, lo and behold, you've figured out the escape route for your character who is cornered on the roof of his apartment building.
2) The car. Similar to the shower, but not quite. I mean, at this point, you're attempting not to kill other people, but what, pray tell, are you supposed to do while waiting in gridlock or idling at a light? The radio, after all, only plays the same five songs on repeat all day, so it's not like you're going to find yourself introduced to something new and startling in the music world. Sure, you could listen to NPR, but you also are a person who spends 90% of their day already fretting about the state of the world, so you don't really need the help (I may be speaking from experience).
3) Observation. This should be a no-brainer. Who hasn't come up with entire histories for strangers in a coffee shop, stories for lip-read conversations, what-if scenarios for if the guy had stepped off the curb a second later? It's like scripting your own TV show without having to pay anyone.
4) Interaction. Sorry to say, the old adage is true: anything you say and do can, and probably will, end up in a writer's work, in some form. Conversations spark ideas, that come to rest in a story. That lame chat you had about what season mangoes are harvested while you each poured a cup of coffee in the break room? That's now in a manuscript about a dystopian future when fruit is a novelty. We find novelty in things that may happen, day to day, hour to hour, without thought, because they fit neatly in a space we've been trying to fill in a story. A story about your childhood dance class, or the way you adjusted your skirt are now part of the repertoire.
5) Reading. "Good writers borrow, great writers steal outright." (attributed to either T.S. Eliot, or Aaron Sorkin, depending on what part of the internet you land on) I wouldn't say that's totally true, but, certainly, reading influences writing. I've always been baffled by so-called writers who don't care for reading. It's as suspicious as chefs who don't look like they eat (I'm looking at you, Giada De Laurentiis). But, moreover, reading is, in a way, similar to sitting around, talking about ideas and art with people you enjoy and respect. You probably shouldn't write a thinly-veiled imitation of something like, say, 1984, but certainly your dystopian future can (and probably should) be influenced by George Orwell.
6) Writing. You knew it was coming, right? If you've read this blog for any length of time, you know that I'm a drill sergeant for consistency in a writing regimen, and insistent that the only way to get better as a writer is to write. The truth is, though, you also are most likely to find your inspiration in the actual act of writing. Sitting down and writing, no matter what it is, stimulates the brain, and the imagination. Maybe you have no clue what you're starting with, and maybe it sucks for a hundred, or a thousand, words, but the more you do it, the easier it is, and the more ideas come.
I cringe at the idea that one must have a grand inspiration in order to motivate their writing. The truth is: few of us have all that exciting lives. If we sit around and wait for inspiration to strike, we're more likely to be hit by a bolt of lightening out of the sky (according to really cursory Googling, I'm finding you have a 1 in 1,200 chance of that which is, suffice to say, pretty unlikely, and a really good simile for my point).
Inspiration is made. The longer you sit around and wait for it, the longer you'll sit around and write nothing.
And that's just sad.
Tags: confidence, i say things people don't like, inspiration, metaphors, rambling, rants, writer's block, writing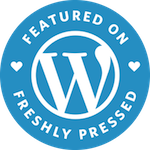 Categories