Questions No One Asked Me: Part One
Sometimes, you see, I do this thing. It's usually in the shower but, from time to time, I do it in the car, or even while walking the dog. I don't usually talk about it, but I don't think I'm the only person who does it.
I interview myself.
What, you were expecting something else?
It comes from watching the early days of Oprah, maybe, or too many awards shows. I was an avid reader of Seventeen and YM in my youth, and my favorite parts of the magazines (besides the "horrible things happen to me too!" fake write-in columns) were always the interviews where the questions were bolded and the star replied. I like a good list, after all, and I even more like hearing people talk about themselves. Maybe it's a character study, or I'm really into self-absorbed people, who knows? But I do love a good interview, even when I'm the one who has to interview myself.
Thus, today, I intro "Questions No One Asked Me."
Today's question: "Lorrie, we all already know your stance on writing, and writing schedules, and taking responsibility for your writing output. But, really, what if you force yourself to write, and it sucks?"
Thanks for asking!
It's a very real fear, that you commit yourself to writing, want to be writing, even, and find out that the words you put on the page are, for a lack of a better descriptor, utter crap. It would come as quite a shock, wouldn't it, to find that even though you're willing to make the effort, it's in vain because your skills are on par with a donkey who backed into a typewriter while drunk. After all, you make the effort, you put in the time, shouldn't that account for something?
If only!
The truth of the matter is: you will write crap. You will write crap more often than you write anything good, or worthwhile, even. You will write pages and pages of crap, sometimes for an entire day, sometimes every time you sit down at the computer, sometimes for weeks. You'll have your brighter days, of course, where everything you type is golden and beautiful, but these days don't last long, and almost never come consecutively.
Sitting down and writing is quite obviously made that much more difficult when you introduce the threat of shit writing. Staring down a computer screen with that devil on your shoulder, telling you you're going to fail can cause even the most determined, and even skilled, writer to balk at bothering at all. After all, if you don't write, you can't suck, right?
Every day, I write. I know many people with other methods, but the most popular way to get through the process of writing, even the bad days, is, simply, write. Write when you don't feel like it, write when you're tired, write when you're stressed, write when you feel like you have nothing to say. The truth of the matter is: most of those times, that is when you will write your worst. It's a ridiculous cliche that you must be having some intense emotion or life experience for your writing to read truthfully, or have any depth. The majority of writing comes from people who are, for the most part, pretty okay with themselves, and their lives. After all, if they weren't, they probably wouldn't get much out, if just because they might not make it that long.
How, then, do you survive writing all that crap? How can you still be happy when you have pages of prose you can never use, passages that couldn't fit into your story if you took a blowtorch to them?
To begin with: bad writing does not make you a bad writer, just as one burned meal doesn't make you a terrible cook. No one is "on" every last day of their lives. Even a genius wakes up with a case of the Mondays.
Second: writing, any writing, is good, even the bad stuff. Why? Well, of course, you're writing, but, even more importantly– this can, and often does, lead to the good stuff! Sitting down and rambling out six pages of characters wandering aimlessly, conversations that go nowhere, action that falls flat, can not only clear out the muck that's weighing you down, but can also jog your brain, and help you work your way through troublesome scenes, plot holes, and questions about motivations. Right now, you may be writing a too-long description about the horrible meal a character's aunt has cooked, simply because you can't think of anything else to write, but suddenly you know why he wants to go to Cambodia, or how to bring in that phone call that will tie Character X into Character A's story.
The most important thing to remember, though, is: bad writing days will not last forever. The more you fear them, and let them control you, the longer and harder they stick. Making the effort to power through them, to refuse to let them control you, can only bring you out the other side, where you'll be a better writer for them.
And then you'll get to do that imaginary red carpet interview while you shave your armpits, too!
Stay tuned for more Questions No One Asked Me!
Tags: confidence, i have issues, i say things people don't like, inadequacy, metaphors, rambling, writer's block, writing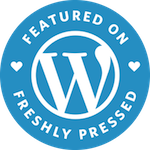 Categories